Result: Tenth National Pigeon Flying Tournament 2009

Introduction:
Nepal Pigeon Keeper's Association (NPKA) is a community of Pigeon keepers of Nepal established in 2000 by the group of keen pigeon fancier of Kathmandu. The main objective of NPKA is to transform 'Pigeon Flying' hobby into a well-known recreational sport. Since its inception NPKA already conducted Eighth National Pigeon Flying Tournament last May 2007. Association also aims to improve pigeon's flying performance and help pigeon keeper's to meet international flying record.
Now NPKA has become a big community of 'Pigeon Keepers' in the country and it actively works for welfare of Pigeon Keepers of the country. Currently there are more than 130 pigeon keepers members working together to give pigeon flying sport to a greater height. Pigeon as a bird, association also works with many bird conservation societies and helps to preserve native birds of Nepal. "Pigeon" being a symbol of PEACE, association storngly support any people's movement toward building peace in the country and spreads the message of "Friendship for Global Peace"
History:
A Keeping pigeon is ancient hobby cherish by many dwellers of Kathmandu, Patan, Bhaktapur and other old urban cities of Nepal. Under the Rana regime, about 90 years ago, Pigeon Flying competitions were organized among Rana Maharajas families. However, there is no concrete evidence available as proof. It is interesting to hear oldtime stories of 'pigeon keeping in Nepal' verbally through older citizen who still keep pigeons as their fondest hobby. Though Pigeon Flying is a well-known sport in neighboring country India, including some other South-Asian countries, pigeon flying solely remains as a personal hobby in Nepal before NPPK gets established. In 1992 some enthusiastic pigeon keepers tried to organize first ever pigeon flying tournament but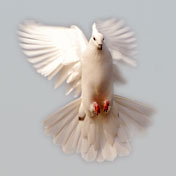 lack of effective communication among pigeon keepers and not having proper pigeon flying manual, that effort became futile. And after several years back some energetic pigeon keepers started working together conducting numerous open meetings and finally on August 27, 2000 they formed a three-member ado-committee. Within a month that ado-committee organized one trial pigeon-flying tournament and this trial became milestone as the first ever Nepal Pigeon flying Tournament in October 2000.
Please feel free to contact us for any question regarding the Nepal Pigeon Keeper's Association. Our email is: nepal@tipplers.com
Thank you for visiting our webpage. Hope you will visit again.
---
webmaster© 2009
Jitendra Raj Bajracharya
.